Posted Online: 2008-10-26
Anita Johnson
Comment on this story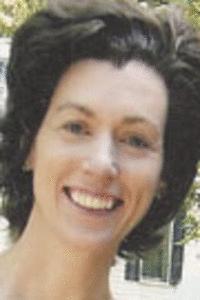 Photo:
anita johnson

Anita B. Johnson, 38, of Rock Island, died Saturday, Oct. 25, 2008, at her home after a courageous 2 1/2-year battle with colon cancer.


Funeral services will be 2 p.m. Thursday, Oct. 30, at First Evangelical Free Church, Moline. Visitation is from 3 to 7 p.m. Wednesday at Esterdahl Mortuary & Crematory, 6601 38th Ave., Moline. Burial is at Beulah Rural Township Cemetery, Orion. Memorials may be made to the family for a fund to be established.
Anita was born June 4, 1970, in Hayward, Calif., the daughter of Edward and Nancy Anema Glaue. She married Brian Johnson on Nov. 28, 1998, in Moline.
Anita was a 1988 graduate of Limestone High School in Bartonville. She received a B.A. in psychology from Anderson University, in Anderson, Ind., in 1992, and received a BSN from OSF St. Francis College of Nursing in Peoria, Ill., in 1996. Professionally, she worked as a counselor for emotionally disturbed adolescents at Catholic Social Services, then worked as a cardiac nurse at OSF St. Francis Medical Center in Peoria. She was most recently employed as a cardiac rehabilitation nurse at Trinity Medical Center, Moline. There she also was an advanced cardiac life support instructor and often volunteered her expertise at various charitable and educational events.
Anita was a member of First Evangelical Free Church, Moline, where she served her Lord in many ways. She was especially devoted to ministry serving women and children, and was particularly fond of the MOPS (Mothers of Preschoolers) program there, which she helped organize and lead.
Anita enjoyed exercise, artwork and piano. She was a very devoted wife and mother, and she treasured every moment together with all of her family.
Survivors include her husband, Brian; children, Paige and Emily, at home; parents, Edward and Nancy Glaue, Peoria; brothers, Timothy (Laura) Glaue, Peoria, Russell (GeeMin) Glaue, Macomb, Ill.; as well as many other family members and friends too numerous to mention. She was preceded in death by her grandparents.
Online condolences may be expressed to Anita's family by visiting her obituary at www.esterdahlmortuary.com.