Posted Online: Posted online: September 23, 2007 12:07 AM
Print publication date: 09/23/2007
A run to remember for RI's Anita Johnson
Comment on this story
By Steve Tappa, stappa@qconline.com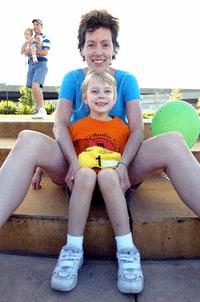 More photos from this shoot
Photo: Paul Colletti
Anita Johnson holds her daughter, Emily, 4, as her husband, Brian, and other daughter, Paige, play in the background. Though Anita has been diagnosed with terminal cancer, she will run in today's 5K race at the Quad City Marathon.
Anita Johnson was overjoyed Saturday, watching 4-year-old daughter Emily start her running career in the Kids' Micro-Marathon.
However, the 37-year-old Rock Island mother of two refuses to look back in anger, even though she suspects her own road is coming to a close today in the 5K portion of the Quad Cities Marathon.
"I try and not look at what I could be losing, but what I do have now," said Johnson, a Stage 4 terminal cancer patient, who's been given mere months to live.
"I don't know how much time I have left to live, but none of us do. Like all of us, I just want to make the most of every opportunity God gives me to be a great mother and celebrate life in anyway I can. That's why I'm running this race for probably the last time."
Johnson used to run the full 26.2-mile marathon distance. She even ran the local race pregnant once, while participating in all of the QC Marathon's heading into today's 10th anniversary event.
But now, doctor's orders limit Johnson to running the 5K with the aide of a back brace, after the cancer ate away one of her verterbrae, leading to a back fracture picking up a carseat when 2-year-old daughter Paige was just a baby back in Nov. 2005.
"Even just doing the 5K, I'm not letting cancer get me down and beat me," said Johnson.
"This proves to myself I'm a very determined person, and I'm going to do whatever it takes to make the most out of the rest of my life, and I'm not going to let anything rob me of the things that I love as long as I can have them."
Johnson knows that's likely not that much longer, even though she appears to be a picture of good health. She used to run 12 miles almost every Saturday for 10 years.
"I feel good," Johnson said. "I have no symptoms yet, except for some back discomfort, and my hands and feet swell up and blister from the chemo."
Johnson was diagnosed with the cancer in Jan. 2006. Doctors told her most patients live no more than two years and two months.
Among her many surgeries, Johnson had sections of her colon and liver taken out in Dec. 2006 to completely remove the cancer that had spread to those areas. The trouble is, the cancer has spread to her lungs.
"I just don't look at the date," Johnson said about the clock ticking. "I heard once that each day is non-returnable, so make it unforgetable.
"Focus on what's most important in life. Make the most of every opportunity. That's what I've been telling myself through this whole thing -- Don't waste the rest of your life."
After all, she's already sacrificed so much. She's lost her hair, lost weight and suffered through the vomitting and diarrhea and terrible skin, nose and ear infections that can come with chemotherapy.
However, chemo is no longer effective, and Johnson is searching for something else to help buy her a little more time with her girls and husband, Brian.
She's one of 30 patients nationwide set to begin experimental treatments in late October at Minnesota's famed Mayo Clinic.
"If it's effective, that should keep me alive for a few extra months," Johnson said cryptically. "My doctor doesn't know how long I'll live, and I don't know what the outcome of my disease will be. But, I believe God will take care of me, and I'm going to do everything I can to survive.
"I've eliminated sugar. We've been away from meat and dairy for a long time. We eat a lot of green, concentrated vegetables."
Johnson was doing much of that before she got sick.
Minor symptoms first appeared when Johnson was pregant with Paige.
"But, we all thought it was attributed to the pregnancy," said Johnson, a former cardiac nurse at Trinity Medical Center.
However, the problems persisted after Paige was born in March 2005. Later that fall, Johnson felt a twinge in her back assisting to the floor a patient who'd collapsed.
Three weeks later, Johnson fractured her back lifting the carseat.
That injury required round-the-clock volunteers at home, helping with her small children while she recovered. And, the volunteers at her church, Moline's First Evangelical, are still there whenever she needs help taking care of the children.
"In the beginning, I was angry," Johnson said. "I'd look around and see people who weigh more than me, people who smoke and drink and don't eat right. What did I do wrong?
"But that's the selfish way of looking at. Instead, I'm grateful for the life I've had and blessed with a wonderful husband, beautiful girls and a very supportive family, friends and church."
Indeed, Johnson swears, she's luckier than most.
"On the bike path one day, there was a man with no legs, and I just thought, `I can't complain,"' Johnson said.
"And what about that local dentist who just had her fourth child, and died suddenly in a car accident? She had no time to tell her loved ones what she wanted to. I've had time to prepare videos I want the kids to see some day, and I've been able to get my affairs in order.
"I do have my moments, where I feel like I'm being robbed from my children's lives. But then, I remember, they're not just my children, they're God's, too. So I just thank Him for the time I do have with them."
And, together, they share a pact.
"We'll put our fists together," Anita recounted, "and we'll say, `We're the Johnson girls. We're strong, we're healthy and we don't quit."'
That vow predictably led Emily to the finish line Saturday. Her mother hopes it serves her similarly well after today's race.