Project 2: Music Copyright as Intellectual Property on the Information Infrastructure;
research, technology solution and implementation proposal on music copyright issues, protection and procedures on the International Information Infrastructure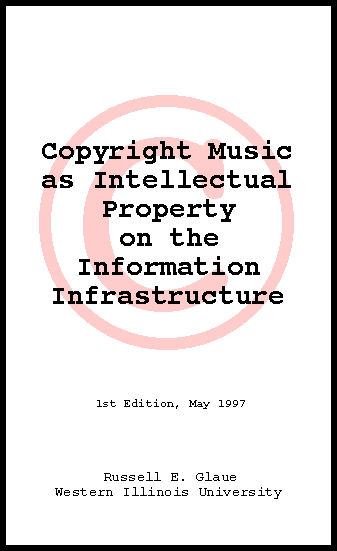 Starting Date of Project:
October 1996
Ending Date of Project:
May 1997
Project is finished - 1st edition
Note: expect another edition as both this issue and technology advance.
Classification: Music Business - degree emphasising in new music multi media technologies
Sub Classification: Computer Science - degree emphasising in telecommunications
---
Information and Resources

Here is my Resource Page for this project. It's always changing and updating. I promise I'll get better organized.
Miscellaneous Information

If you would like a copy of my report, then a)you'll have to wait until I'm finished (which I am) and b)you'll have to ask me for an official printed copy (I'd appreciate it if you could send me like a $1 or something for postage) or c)you can read the UNOFFICIAL text version or now d)you can download the WordPerfect 6.1 version for MSWindows of my document.

Ironically, this document IS NOT copyrighted. However, by downloading this document off my web site, you agree not to edit the document and redistribute the edited version as the original. You may not use this document, or edit this document in any way or fashion that will misrepresent my actions. You are free to redistribute this report, as long as credit is given to me, and my name stays on the report somewhere. If you are using this report as a source for any other report.... as a warning, don't plagerize by not giving me credit for any content of the report you use.

If you feel you can contribute to this project (that I could use in the next edition), and would like to do so ... PLEASE WRITE ME! My e-mail address is re-glaue@wiu.edu.
---
[ The Web World Project | Colors and Advertising | Music Copyright | Implementation of Projects 1 and 2/6 | Book on Internet Music Copyright Law and Issues | The Ottonian Culture, an investigation of Gospel Book of Otto III | Music Copyright; Second Edition | Early Netherlandish Painting and Jan Van Eyck. | Marketing of the Music Industry in New Media ]


Please direct comments about this project to me at: re-glaue@wiu.edu

Last update : 5/11/97